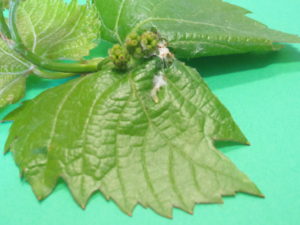 NOVC has operated an independent, non-profit Integrated Pest Management program for its clients since 1993. Focusing on plant nutrition and the safe, responsible use of crop protection materials, Niagara Pest Monitoring Club has been of benefit to growers, their crops, the environment and consumers.
At NPMC, we provide accurate timing to reduce spraying for insect and disease damage in orchards and vineyards. By continuous monitoring at "hot-spots" within the Region, we have reliable and well-controlled data from regular trap counts of Grape Berry Moth and Oriental Fruit Moth.
Current scouting benefits more than 2000 acres of orchards and vineyards throughout the Niagara Region.
With qualified OMAFRA trained post-secondary students available from May through September, we can take soil and plant tissue samples from your field, prepare and box them and deliver your results on a timely basis. With one-on-one personal attention, our scouts will make weekly (or more) visits to your orchard and/or vineyard and take accurate mapping details of each location for a complete site evaluation tailored to suit your needs. NPMC makes effective use of your pesticide budget.
We do not charge for sampling, shipping or preparation of samples. You pay only for the sample analysis. We use a qualified, accredited lab (A&L Laboratories) for all our samples.
Program enrolment is recommended no later than mid-May. Please email us for more information.